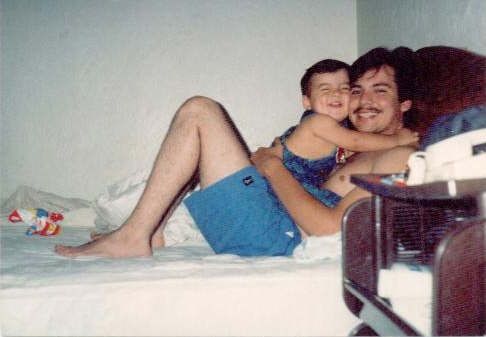 Sometimes I'm afraid that the time advances, I'm afraid that the clock will one day reach my father and that his feet, those feet of travel and work that he has, stop stepping on this world. I want to be very honest in what I am going to write, leave aside what I think you would like to read. 
I do not know if I have been able to explain to my father how much I need him, because I never wanted to be selfish with him, but there is not a day when I do not think about it. Over time we have learned to chat on the phone periodically, to be aware of each other. But what about all those conversations that I have with him and that I do not let him hear? Since my parents divorced and my father lived in cities far from me I have created habits around him that he does not know. As a teenager and now as an adult there are days when life bends me, I sit on the edge of my bed and I start talking to him feeling that in the wind the words hold and find the way to his heart. Another habit much more evident is the guitar, the first years I played was always to feel his embrace surround me, I played so many hours a day waiting to hallucinate his presence, to hear his voice in my delirium, yes, I loved him so much then and I love him now. 
The truth is that my relationship with him is based on what we built when we lived together or close, that's what inspires me to be the father I am now, through my experience I understand that being close to my son is fundamental. I have many memories of my father, I carry them like my flag. I remember at a party, I was 6 years old or a little older, my father would always take out his guitar at meetings, which he would keep in his car in case the moment of a bohemian night was lent. I hid to be able to hear him behind the chair where he sat. I remember that the armchair was one of those thick, brown and velvety chairs. And while the other children played "the trapped" I began to hear him sing. I remember that he sang "Why he left" and that I started crying for the lyrics. But that's where I began to see my dad through all its walls, the man who feels life in its fullness, the man who cries, the man who is capable of loving a woman, the man who laughs and deludes, who has dreams and sorrows. He taught me how a guitar can be a direct bridge to the soul. 
I remember that once we went to Disneyland but on a special schedule, they opened the doors for hoteliers at night and during the early morning hours, and of all the images that you could have of that night are so beautiful for a child, the most important of them was when when I entered holding my dad's hand and from the waist up I looked up to see his face and his eyes had a brightness of emotion so bright that his pupils looked like two lamps of joy. I remember seeing a child in him that I did not know yet and who seemed to me my new best friend. 
I remember many wonderful days with him that I do not know if one day there will be a beautiful opportunity to tell you, but if you still have your father close to you, please visit him, dedicate to him a couple of afternoons a week, hug him with the youngest of the pretexts or take interest in the projects they have in hand, although they try to collect music or watch football, say "I love you, I love you, I love you Dad". A long time ago I stopped giving advice and I do not feel fit to do it, but in this case it is necessary to highlight how important it is to love your father while you have him, because one day it will no longer be. 
Daddy, if you read this far, I declare once again, in front of those who have also read, that I miss you every day of my life, that I love you in all the limits of my love, and that if I could make a wish, only one , it would be that after this life my soul will fuse with yours again. 
"Who is the one who loves you the most?"